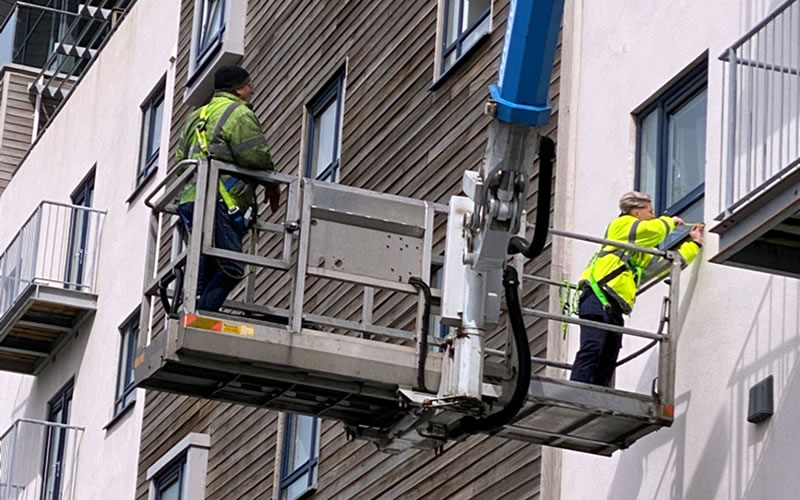 EWS1 Survey & Certificate
What is the EWS1 Certificate?
An EWS1 certificate is specifically designed for properties, including blocks of flats whether they are privately owned or owned by housing associations, social housing providers, student accommodation, dormitories, assisted living facilities, care homes and HMOs.
After the assessment process, the building will receive one of the following ratings;
 A Rating: This indicates that the external wall system is unlikely to support fire. A1, A2 or A3 further break down this rating.
 B Rating: This refers to a wall system that contains material that could potentially support fire. B1 and B2 further specify this rating.
At MAF Associates we possess all the insurances and qualifications to evaluate both A and B ratings. Our team includes a Chartered Engineer who's a member of an institution recognised by the Engineering Council. This allows us to sign and issue certifications, for B rated systems.
Moreover, MAF Associates operates independently. Can provide third-party accreditation services to ensure your peace of mind.
How do I obtain an EWS1 Certificate?
At MAF Associates our team of professionals specialises in conducting fire risk assessments. We're here to assist you in obtaining an optimised EWS1 form for England, Wales and Northern Ireland.
These are the steps you need to follow:
Step 1: External Fire Risk Assessment.
The initial step involves conducting an external fire risk assessment. Our experienced team at MAF Associates will carefully evaluate your property. Assess all fire risk factors.
Step 2: Issuance of EWS1 Form.
After completing the fire risk assessment our experts will review the findings. Provide you with a signed EWS1 form. This form covers the building and remains valid for five years in England, Wales and Northern Ireland.
It's worth noting that Scotland the EWS1 has had some practical challenges given the different property ownership system which has meant that one EWS1 form per property has been required, rather than one per building.
The Royal Institution of Chartered Surveyors (RICS) strongly advises uploading all completed EWS1 forms to the Fire Industry Association (FIA) portal as recommended. This helps prevent duplications and ensures that your certification is easily accessible to parties.
MAF Associates is registered on the portal and can handle the uploading process for both A and B rated properties. Upon agreement with our clients, we take care of submitting the EWS1 form to the portal making the whole process streamlined for you.
If you are ready to start the EWS1 certification process and schedule a wall risk assessment, feel free to contact us today. Our dedicated experts will be more than happy to assist you at every step. We are committed, to helping you navigate through the EWS1 certification process smoothly ensuring that your property remains safe and compliant.